November 6, 2019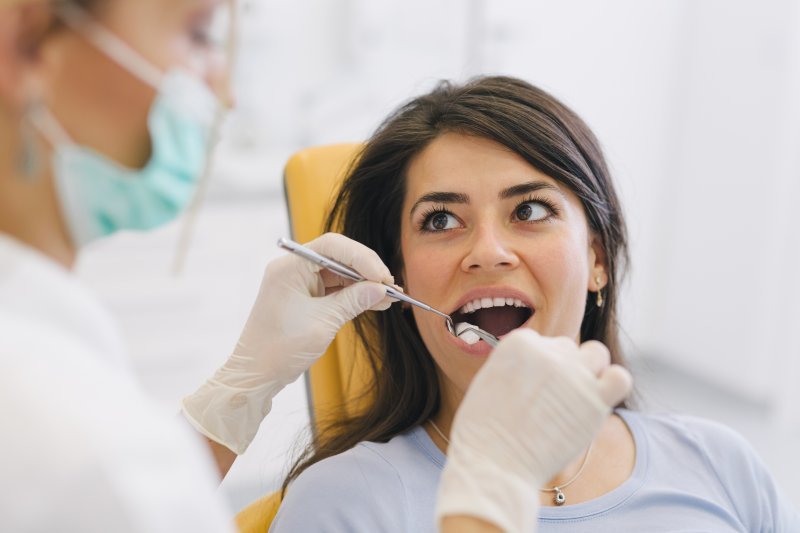 November is National Diabetes Awareness Month and although this common disease negatively impacts a person's overall health, it can also be problematic for one's teeth and gums. The mouth and body are closely interconnected, which means, when a person has difficulty managing their blood sugar levels, their chances of developing periodontal disease increase significantly. Read on to find out exactly how gum disease impacts an individual's oral health, especially a diabetic.
What is Gum Disease?
Millions of adults living in the United States suffer from some sort of gum disease. This infection attacks the gums and leads to swelling, redness, inflammation, and bleeding, all of which can escalate to gum pocket formation. In the early stages of gum disease, which is also known as periodontal disease, your periodontist can reverse the symptoms by performing a thorough cleaning and encouraging proper oral hygiene habits at home.
However, should gum disease escalate into a more advanced stage (periodontitis), infection and inflammation can enter the bloodstream, causing health problems as well as possible bone and tooth loss.
Why Are Diabetics More Susceptible to Gum Disease?
Diabetes is a disease that involves managing glucose levels. If a diabetic develops gum disease, it can make it much harder to manage their blood sugar, keeping them at a normal level. The reason is that individuals who have a weakened immune system can experience difficulty in fighting off bacterial infections like gum disease.
So, if you avoid properly cleaning your teeth on a regular basis and don't bother checking your blood sugar, there is a good chance your gums will be negatively impacted.
How to Keep Gums Healthy
No matter if you're diabetic or not, there are ways to prevent gum disease from developing. Some of these include:
Maintaining a good oral hygiene routine that includes brushing your teeth twice a day, flossing at least once a day, and rinsing with an antimicrobial mouthwash.
Keeping your regularly scheduled dental checkups and cleanings with your dentist.
Avoiding foods that contact sugar or starch, as both can cause bacteria to build and spread along the teeth and gums.
Drink plenty of water to stay hydrated and keep salivary glands working at an optimal level.
Monitor your blood sugar levels if you are diabetic.
Talk to your physician about ways to improve your overall health and better manage your diabetes.
Periodontal disease affects millions of people, but it doesn't have to negatively impact your oral health. Take the necessary steps to keep your teeth and gums clean and talk to your periodontist about treatment options should you notice any symptoms associated with gum disease.
About the Author
Dr. Ryan Johnson is a graduate of the University of Florida. He earned a bachelor's degree in finance before spending several years working in management and finance. Realizing his passion for helping people, he opted to pursue a Doctor of Dental Surgery degree from the University of Colorado School of Dental Medicine. Dr. Johnson and his team want you to have a healthy smile that increases your confidence, so if gum disease is present, you'll be pleased to know that they offer periodontal therapy to help you regain and restore your gum health. If you want to learn more about us and our services, contact us at (904) 751-4958.
Comments Off

on How Gum Disease Can Impact Your Oral Health, Especially if You're Diabetic
No Comments
No comments yet.
RSS feed for comments on this post.
Sorry, the comment form is closed at this time.