December 1, 2022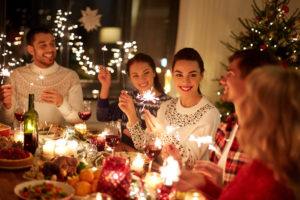 Do you want to replace a missing tooth with a dental implant? Do you need to remove impacted wisdom teeth? Many people choose to schedule oral surgery around the holidays since they will be taking time off work anyway. However, you might be worried that you won't be able to fully enjoy the festive season after your procedure. Fortunately, it's still possible to travel, enjoy traditional food, and spend time with family after oral surgery. You will just have to take certain precautions. Keep reading below to learn more.
Rest
It's important to take it easy and rest after you undergo oral surgery. Avoid running, lifting weights, and other strenuous activities, as increased blood flow can cause swelling and discomfort. Instead, use the initial recovery period to watch your favorite holiday movies on Netflix or finally read that book you've been wanting to check out. Just be sure to keep your head elevated while you're lounging on the couch to prevent further swelling.
Wait to Travel
Give yourself a couple of days of rest before traveling for work or pleasure. Swelling and bruising are common after surgery, but shouldn't be increased by traveling after the first few days. Flying usually doesn't present a significant hazard after oral surgery. However, there are certain cases where your dentist may recommend an extended waiting period before air travel. Be sure to share any travel plans with your dentist so they can advise you.
Eat Soft Foods
It's very important to maintain good nutrition for proper healing. However, you will need to temporarily adjust your normal diet after oral surgery. During the healing phase, it may be difficult to chew. Stick to soft foods and avoid eating tough, crunchy, crumbly, acidic, or spicy foods. Foods that are good to eat postoperatively include:
Scrambled eggs
Mashed potatoes
Apple sauce
Soup
Stuffing
Baked yams
Yogurt
You can gradually re-introduce firmer foods back into your diet as you progress through recovery. After several days, you should be fine eating most of the foods on the holiday table, including turkey or ham.
Plan Activities
If family and friends are planning on playing active games, you'll want to sit them out and watch from the sidelines. No backyard football or basketball in the driveway! Bring along a board game or a deck of cards to offer as fun alternatives that multiple people can participate in.
With a little planning and know-how, you should be able to thoroughly enjoy the holiday season after your oral surgery! If you have any doubts or questions, don't hesitate to talk with your dentist ahead of time.  
About the Author
Dr. Tim Bradberry comes from a dental family who has serviced the Jacksonville community for over 25 years. The proud University of North Florida graduate performs the entire procedure for dental implants—from implantation to final restoration—under one roof at North Jacksonville Complete Dentistry. For more tips on how to recover from oral surgery during the holidays, visit the North Jacksonville Complete Dentistry website or call 904-751-4958.
Comments Off

on How to Enjoy the Holidays While Healing from Oral Surgery
No Comments
No comments yet.
RSS feed for comments on this post.
Sorry, the comment form is closed at this time.