April 30, 2020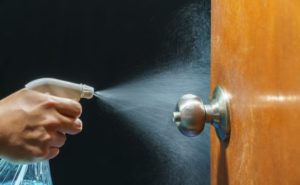 In these uncertain times, it can seem anxiety-inducing to need to visit public spaces where you aren't able to control what you come into contact with. Your dental practice is providing emergency care and may soon open their doors to patients who need cosmetic and preventive services as well. But, how can you trust that they're doing everything possible to keep their patients and staff safe? Read om to learn about the precautionary sanitation measures your dental office is following that makes them some of the cleanest establishments open at the moment.
Using Personal Protective Equipment
Dental staff will always be wearing person protective equipment, including gloves, surgical masks and protective eyewear, and reusable paper gowns, especially when treating patients who could possibly test positive for the virus. Your dentist will also be able to provide you with gloves or protective eyewear to ensure your safety and make you feel more comfortable in the treatment room. These protective materials will reduce the risk of droplet migration from the eyes, nose, and mouth.
Regular Hand Hygiene
Frequent and regular hand washing is another precautionary measure being taken by your dentist and their staff. They're following the CDC's recommendation to wash hands between each patient after touching any object in the office that could potentially be contaminated with saliva from other patients. They'll also be washing their hands both before and after they put on gloves, in case one of the gloves becomes perforated or damaged.
Disinfection & Sterilization of Surfaces & Tools
Between patients, dental staff will also be disinfecting any surfaces that patients could potentially come into contact with as well as sanitizing all instruments and machinery in the treatment room that could have been contaminated. They'll do this by using a CDC-approved disinfectant to ensure that no bacteria, viruses, or other germs linger. For instruments in the treatment room that have grooves and ridges that make them harder to disinfect, they may also place a protective plastic cover over them that can be changed out after each appointment.
Pre-Appointment Patient Screenings
Before patients come in for emergency dental care, the dentist will screen them over the phone to see if they're exhibiting any signs of COVID-19, such as a dry cough or fever. If they are speaking with a patient that could potentially test positive, they'll be able to get in touch with a medical professional to determine which facilities will work best for their current healthcare needs. They're also encouraging patients to contact the office and let them know if they're sick or experiencing any unusual symptoms.
Although visiting your emergency dentist may seem daunting at the time, leaving an urgent issue untreated will likely result in it getting worse. You can trust that your dentist is following strict CDC safety guidelines to ensure that their staff and patients remain safe and healthy.
About the Author
Dr. Ryan Johnson is passionate about helping his community boost their oral health by providing them with the tools and knowledge they need to do that. He regularly completes continuing education courses to stay up to date with the latest advancements in his field as well. During the COVID-19 crisis, North Jacksonville Complete Dentistry's office will only be open to serve emergency patients and are postponing all elective procedures. For questions or to schedule an appointment, visit our website or call 904-751-4958.
Comments Off

on How Are Dental Practices Keeping Patients Safe During COVID-19?
No Comments
No comments yet.
RSS feed for comments on this post.
Sorry, the comment form is closed at this time.