August 10, 2021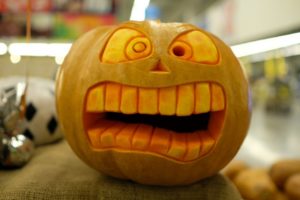 As summer comes to a close and fall begins to set in, it's no secret that Halloween is right around the corner! Whether your friends are planning a party, your child is excited to pick out their costume, or Halloween decorations have begun to invade your local grocery store, many of us are excited for this spooky holiday. However, as one of the most sugar-filled days of the year, it can be a scary time for your teeth! Thankfully, you can keep your smile "bootiful" while still enjoying Halloween. Here's how!
Snack Smart
With such an abundance of candy around, many of us tend to snack on sugary treats and baked goods throughout the day. However, you should do your best to avoid grazing and limit candy to mealtimes. The more often you snack, the longer cavity-causing bacteria in your mouth are fueled.
Stay Hydrated
Whether you're walking around the neighborhood trick-or-treating or hanging out at home watching scary movies, don't forget to stay hydrated! Not only is it important for your overall health, but drinking water frequently will wash away lingering Halloween-candy sugars in your mouth to prevent cavities.
Be Picky About Your Candy
Not all candies are created equal. Some are better or worse for your teeth! For example, jawbreakers, hard lollipops, caramel apples, taffy, and other hard or sticky candies can significantly wear down your teeth. Instead, choose softer options like peanut butter cups, soft peppermint patties, and sugarless gum.
Remember to Eat Real Food Too
When you're eating sweet treats all day, it can be easy to fill up on junk food instead of healthy meals. Do your best to eat healthy foods amidst your Halloween celebrations, such as lean meats, low-fat dairy products, and fruits and vegetables. These foods all contain nutrients that can help keep your teeth and gums healthy during the fall festivities and beyond.
Don't Forget to Brush & Floss
At the end of a long Halloween night, it may be tempting just to crawl into bed without any preparation. On particularly late nights, it may be ok to stay in costume and go to sleep as a werewolf or ballerina if you need to, but make sure you at least take the time to brush and floss your teeth. These simple habits are your number one defense against cavities and gum disease, especially after a day filled with delicious candy.
Don't let Halloween be scary for your teeth! Keep your pearly whites looking and feeling their best this fall season by practicing these simple tips.
About the Practice
Dr. Tim Bradberry is committed to helping smiles of all ages in Jacksonville and the surrounding communities. With a focus on the latest dental techniques and patient education, he strives to help his patients achieve happy, healthy smiles and maintain them through all seasons of life. Whether you're looking to clean your pearly whites before Halloween or have a toothache from eating too much candy, Dr. Bradberry has what you need at North Jacksonville Complete Dentistry. To learn more, he can be contacted online or at (904) 751-4958.
Comments Off

on Halloween Doesn't Have to Be Spooky for Your Teeth!
No Comments
No comments yet.
RSS feed for comments on this post.
Sorry, the comment form is closed at this time.