February 18, 2018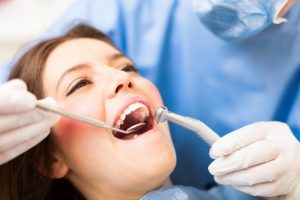 Gum disease is considered the silent killer for many reasons. Not only can it turn deadly if not promptly managed, but most people don't even realize they have it. That is, until they're dentist in Jacksonville informs them. Since February is Gum Disease Awareness Month, your dentist thought it would be appropriate to offer some helpful tips on gum disease and how to address them should they appear.
If you aren't familiar with gum disease, you may have questions like "How do I prevent gum disease?" Or "Can gum disease run in the family?" You don't have to worry any longer.
Is Gum Disease Influenced by Heredity?
Current studies do suggest that periodontal disease is influenced by heredity, so you can be more susceptible to it if you have family members who currently have it. Even if you have a strict oral care regimen, you can still be more likely to contract periodontal disease than the average person.
Currently, up to 30 percent of the population is genetically predisposed to gum disease. These people are about six times more likely to get gum disease than those without a predisposition. The best way to confirm if you are is via a genetic test. If your dentist determines you're at a higher risk, they'll provide early intervention treatment to help you stay as proactive as possible.
What are the Signs of Gum Disease?
Unfortunately, the signs of gum disease are pretty difficult to catch before you already have it. Once you notice these symptoms, it's likely too late to prevent. However, catching early stages of gum disease like gingivitis are much easier to manage. If you notice any of the following symptoms, be sure to mention it at your next dental visit:
Painful chewing
Chronic bad breath that won't go away
Tender or bleeding gums
Loose or sensitive teeth
Receding gums and longer appearing teeth
If you catch it early enough, gingivitis is reversible by changing a few of your habits and receiving a professional cleaning. If gone untreated, it can lead to periodontitis which puts your tooth, bone and periodontal ligament at risk. However, by practicing these habits, you won't ever have to worry about periodontitis.
How Do I Prevent Gum Disease?
To treat gum disease in Jacksonville, you'll need visit your dentist every six months. Since gum disease is highly unnoticeable, only a trained professional can alert you of the early signs and treat them accordingly. In between your visits, you'll want to make sure you're doing the following:
Brush for two to three minutes with a fluoridated toothpaste, specifically around the gumline.
Floss daily. Use a floss holder if traditional flossing is too difficult.
Consider including a mouth rinse in your oral-care routine.
Avoid all forms of tobacco.
Eat a healthy diet consisting of vitamins A and C. These nutrients are great for promoting gum health.
Don't let gum disease get you down. Stay ahead of it with regular habits from your dentist in Jacksonville. Schedule an appointment with them today to see where you stand!
About the Practice
Dr. Ryan Johnson and Dr. Baxter are fully capable of managing gum disease when caught early. Through methods like deep cleaning and laser treatment, the staff at North Jacksonville Complete Dentistry work hard to eliminate bacteria and preserve your teeth and bone. To learn more about the practice, contact either Dr. Johnson or Dr. Baxter at (904) 751-4958 or visit their website.
Comments Off

on Do You Have Gum Disease? Your Dentist in Jacksonville Can Help
No Comments
No comments yet.
RSS feed for comments on this post.
Sorry, the comment form is closed at this time.