September 2, 2022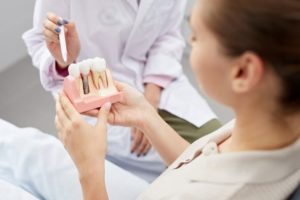 When it comes to replacing missing teeth, dental implants are in a tier of their own! These awesome implants are able to fully restore lost teeth in terms of look and functionality, meaning that patients are given a beautiful new smile that operates better than ever before! That said, if you're interested in receiving implants to restore your missing teeth, you might have some questions about the overall cost of treatment. Here are three factors that often contribute to the cost of dental implants.
1. Number of Implants Needed
Naturally, the more teeth that you're missing, the more implants you're going to need to replace them! If you only have one or two missing teeth, your bill shouldn't run too high. But if you have multiple lost teeth or an entire row missing, you'll be faced with a steeper bill. In these instances, it's sometimes worth considering other tooth replacement options like dentures or bridges. Although they aren't quite as durable or lasting as dental implants, they can still effectively replace your lost teeth, and usually at a lower initial cost.
2. Location of Implants & How They're Placed
Missing front teeth are actually more expensive to replace than missing back teeth! This is because your dentist must ensure that the restoration solution carefully matches the angle of your jawline, so that your bite pattern isn't negatively affected. Depending on the teeth being replaced and the complexity of the solution, your dentist might also have to utilize certain techniques and technologies to assist with implant placement, which can inevitably affect the cost of treatment.
3. Additional Surgeries & Treatments
In some cases, a patient needs dental implants, but their mouth isn't ready for them, or their oral health is compromised in some way. Sometimes the jawbone doesn't have sufficient density for supporting implants, which is very problematic since the implants need healthy bone to fuse with—but a dental bone graft can address this issue. Other times, something like a tooth extraction or gum disease therapy might be necessary beforehand. Any necessary additional surgeries that are required in order to prepare your mouth for dental implants will inevitably drive up your final bill.
Of course, the better your oral health is, the less likely you'll run into expensive complications throughout the dental implant process! Knowing the factors that determine the cost of dental implants can help you make an informed decision about how to restore your smile. That said, don't hesitate to speak with your dentist if you have any questions about the cost of getting dental implants.
About the Practice
The team at North Jacksonville Complete Dentistry is honored to serve patients and families in Jacksonville and the surrounding area. The practice is fortunate to house three incredibly skilled specialists: Dr. Tim Bradberry, Dr. Tam Truong, and Dr. William Baxter. Together they combine several decades of experience to offer a wide range of available dental services including dental implants. If you have any questions about dental implants or would like to arrange a visit, you can contact the practice online or over the phone: (904) 751-4958.
Comments Off

on Factors That Affect the Cost of Dental Implants
No Comments
No comments yet.
RSS feed for comments on this post.
Sorry, the comment form is closed at this time.