February 9, 2022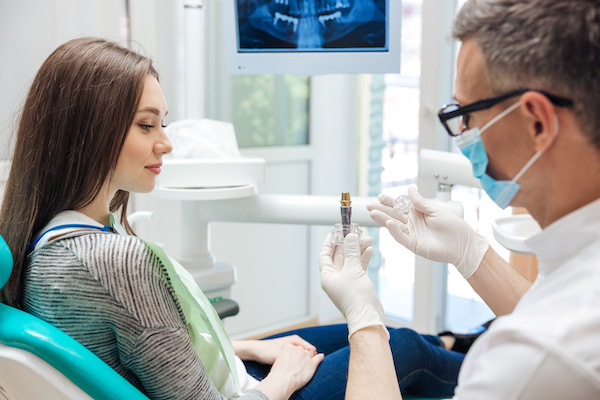 You probably want to find out everything you can about dental implants before you decide to take the plunge. Once you have found out what they are and how they work, your next question may be what they'll actually feel like once they are in your mouth. The answer will probably help you look forward to your tooth replacement even more – keep reading to find out what you can expect from your dental implants! 
What Dental Implants Feel Like
Compared to dentures that rest on your gums and may cause blisters or sore spots off and on while you wear them, dental implants are a dream. In fact, no other tooth replacement option offers the same excellent results as dental implants. That's because they heal together with your jaw, becoming one with the bone and providing unmatched stability and comfort.
You may experience some soreness and the placement site immediately after the procedure and in the 4 to 6 months while they heal together with your jawbone, but once the healing process is complete, the truth is that you shouldn't notice your dental implants at all. Many patients forget they have them altogether!
Numerous Additional Benefits of Dental Implants
Aside from providing a sturdy foundation for your replacement teeth and comfort beyond what any other tooth replacement can offer, dental implants offer a host of additional benefits. Some of the most commonly cited ones include:
Gain increased confidence from an attractive, complete smile
Eat a healthy, balanced diet without limitations caused by missing teeth
Promote oral health by preventing the deterioration of the jawbone that occurs after tooth loss
Add years to your life by reducing the risk of cardiovascular disease and diabetes – and increase the quality of life for those additional years!
Are You a Candidate?
Now that you know a little more about what dental implants feel like and the host of benefits they offer, it is time to find out if you are a good candidate for this procedure. The answer may be yes if you are in good overall health, have a healthy jaw bone, and are committed to taking care of your smile after receiving the implants.
Your dentist wants to help you rebuild your smile after tooth loss – don't hesitate to get in touch to find out if you're a candidate!
Meet the Practice
The team at North Jacksonville Complete Dentistry is committed to offering patients a high-quality, comprehensive dental experience. They take a high-tech approach to their full range of dental procedures, which ensures that you will always receive the maximum in comfort and efficiency. To learn more about dental implants, including whether or not you are a candidate, you can schedule an appointment on their website or by calling (904) 549-6979.
Comments Off

on Enjoy a Comfortable Tooth Replacement with Dental Implants
No Comments
No comments yet.
RSS feed for comments on this post.
Sorry, the comment form is closed at this time.