November 8, 2022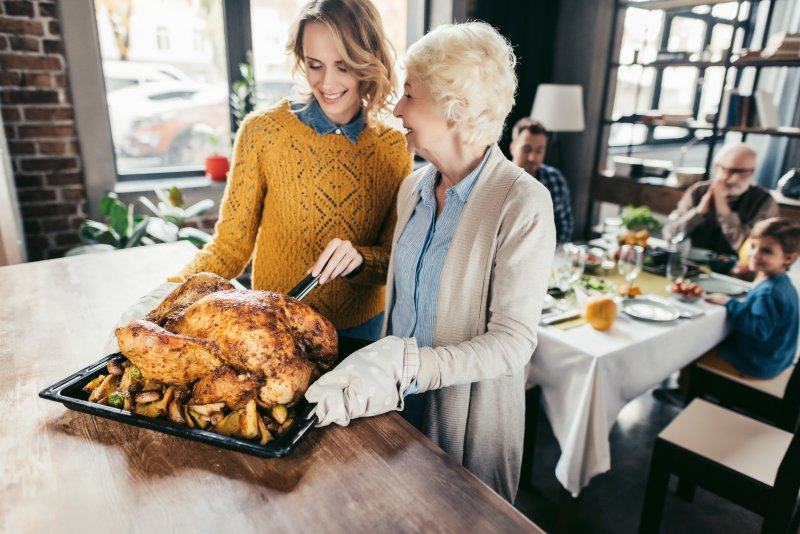 Are you struggling with missing one or several teeth? If so, you may be dreading the holiday season. The last thing you want is to have difficulties with tasks like enjoying your meals, conversing with your loved ones, and smiling for group photos. Fortunately, you can resolve these issues by getting dental implants. With these porcelain and titanium restorations, you'll be able to rebuild your pearly whites and maintain your jawbone for several decades to a lifetime! Read on to learn how you can enjoy your holiday meals by eating with dental implants.
#1: Enjoy Simple Maintenance
Other than catching up with friends and family, you're bound to snack on plenty of amazing dishes and treats during the festive season. The good news is that cleaning your mouth afterward will be a piece of cake with dental implants. Unlike traditional restorations like bridges and dentures which require special products and techniques to maintain, you'll simply need to brush, floss, and rinse with mouthwash to preserve your metal posts.
#2: Eat Whatever Foods You Want
Missing one, several, or all of your teeth can make it extremely difficult to enjoy your meals. This may have led you to adopt a softer-food diet over the last several months or years. With dental implants, however, you won't have to worry about holding back on your favorite dishes. Since they'll be made of durable porcelain and titanium, feel free to munch on all the seasonal staples, such as ham and pumpkin pie!
#3: Speak Clearly with Friends & Family
Tooth loss can make it challenging to communicate clearly. To avoid having difficulties conversing with your friends and loved ones over a holiday meal, you can restore your missing teeth with dental implants. The crown of a dental implant will be specifically designed to match the rest of your smile, so you'll be able to enjoy your normal speech pattern.
#4: Show Off a Complete & Confident Smile
Do you typically hide your grin while taking photos due to gaps in your smile? With dental implants, you won't have to worry about that anymore. These restorations are custom-designed to match your natural teeth while not appearing bulky or obtrusive. Once you've restored your missing teeth, you'll feel much more confident to show off your pearly whites.
If you're struggling with gaps in your smile, don't hesitate to speak with your dentist about your tooth-replacement options. They'll be more than happy to determine if dental implants are a good solution for you, that way you can fully enjoy your Thanksgiving meal!
About the Author
Dr. William D. Baxter earned his dental doctorate from The University of Pennsylvania School of Dentistry. He also served in The United States Coast Guard and has been delivering outstanding care for well over two decades. He offers a wide range of high-quality services, including dental implants. If you'd like to set up a consultation, visit his website or call him at 904-751-4958.
Comments Off

on 4 Ways Dental Implants Can Offer an Enjoyable Holiday Season
No Comments
No comments yet.
RSS feed for comments on this post.
Sorry, the comment form is closed at this time.