June 14, 2020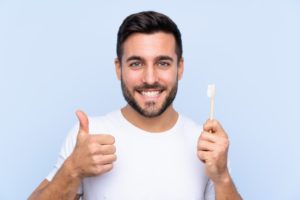 Oral hygiene is one of the cornerstones of a healthy mouth, and a healthy mouth is a key element in maintaining overall wellness. Keeping your smile clean and fresh can prevent disease, boost your confidence, and spare you from spending a lot of money on major dental procedures. You have every reason to care well for your teeth and gums! If you are looking for ideas to take your oral hygiene routine to the next level, you might benefit from the following tips provided by an experienced dentist in Jacksonville.
Visit Your Dentist
If it has been more than six months since your last preventive appointment, now is the time to visit your dentist. Professional cleanings are vital for hygiene because they remove tartar from the teeth, which a regular toothbrush cannot remove. Plus, your dentist and hygienist will be happy to give you personalized tips on at-home tooth care. For example, they might recommend that you use certain products, and they can coach you on proper brushing and flossing techniques.
Set Up Reminders
In the busyness of everyday life, it can be easy to occasionally forget to floss or brush your teeth. To prevent those little missteps, you can do a few things to remind yourself to stick to your oral hygiene routine:
Place your toothbrush, floss, and mouthwash somewhere they are easily visible
Set a daily alarm on your phone that reminds you to clean your teeth
Ask your family members to kindly remind you to brush and floss (you can do the same for them and turn oral hygiene into a team effort)
Make It Enjoyable
Some people are not as diligent about oral hygiene as they should be because they find some aspects of it to be tedious or uncomfortable. To overcome such feelings, you might:
Invest in an electric toothbrush. The vibrations feel great against the gums, and electric brushes have greater cleaning power than manual ones.
Try a water flosser. Many people find that a water flosser is more comfortable than traditional string floss.
Listen to music. Listening to your favorite song while you brush and floss may help to alleviate any feelings of boredom you have.
Reward Yourself
A healthy mouth is the best reward for maintaining a great oral hygiene routine. However, that doesn't mean you can't reward yourself in other ways for caring for your teeth and gums. For example, if you floss every day for a month, you could treat yourself to a nice dinner or a new pair of shoes.
Are you ready to harness your oral hygiene habits? The above tips may help you get into an effective routine that benefits your teeth, your gums, and your confidence.
About the Author
Dr. Ryan Johnson earned his DDS from the University of Colorado School of Dental Medicine. Since graduation, he has continued to refine his skills with the help of continuing education. He enjoys serving his patients, and he is always happy to offer advice on how they can maintain excellent oral hygiene on a daily basis. If you would like to speak to Dr. Johnson about how you can care for your smile's well-being, contact our team at 904-751-4958.
Comments Off

on How to Start and Maintain an Awesome Oral Hygiene Routine
No Comments
No comments yet.
RSS feed for comments on this post.
Sorry, the comment form is closed at this time.