September 16, 2017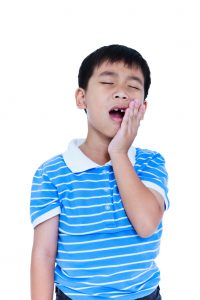 A sport related dental emergency isn't uncommon. In fact, more than 5 million teeth are avulsed each year and up to 39% of them are connected to athletic activities.
If you have a child that's a student-athlete, would you know what to do if they lost their teeth on the field? Many would be quick to assume that their teeth are gone forever, but really, your child's teeth can still be saved if you listen to these tips from your emergency dentist in Jacksonville.
Follow These Steps for a Knocked-Out Tooth:
The best thing you can do to save a knocked-out tooth is to act quickly (within 30 minutes!) and visit your nearest dentist. In the meantime, you can take these tooth-saving steps until you receive the necessary medical attention for your teeth:
1.     Pick up the tooth by the crown (the chewing surface) but NOT the root.
Locate the tooth right after it's been lost; don't leave it at the site of the accident. Handle the tooth carefully when you pick it up, and never touch the root of the tooth, only the chewing surface.
2.     If dirty, gently rinse the tooth with water.
Use only water to gently rinse off any dirt. Do not use soap or chemicals. Don't scrub or dry the tooth, and don't wrap the tooth in a tissue or cloth.
3.     Reposition the tooth in the socket immediately, if possible.
Gently push it in with your fingers, by handling the crown, or position it above the socket and close your mouth slowly. Hold the tooth in place with your fingers or by gently biting down on it. If you can't fit it correctly, don't force it.
4.     Keep the tooth moist at all times.
The tooth must stay moist at all times, either in your mouth or, if it can't be replaced in the socket, put it in milk (we will explain why milk is so important to saving your teeth in a second!) Don't use regular tap water; root surface cells can't tolerate that for extended periods of time.
5.     Visit a dentist within 30 minutes of the injury.
Your chances of saving your natural teeth are increased when you visit the dentist immediately after a dental emergency.
Got milk? Save Your Teeth!
There's an old wives' tale that says something along the lines of placing a tooth that's been lost into milk protects the tooth until it can be placed back in its socket. Is this a myth or the truth?
Believe it or not, it's the truth! Milk is an excellent temporary preservative for a knocked-out tooth because its chemical makeup is compatible with teeth. The makeup of milk is nearly the same as what makes up your gum tissue, enriched with calcium and healthy fibers that match the root of your tooth.
Your dentist in Jacksonville already knows that it can be very stressful to deal with dental emergencies. If faced with one, call your dentist right away so that they can try to schedule a same day dental appointment for you to receive the health care you need.
Meet Your Dentist in Jacksonville
There are too many cases where teeth are lost that could have been prevented if patients reached out to the correct sources or took the right measures until they were able to visit their dentist. That's why both Dr. Johnson and Dr. Baxter work to provide you helpful information like this post to make sure you're better prepared.
Did you or a loved one lose a tooth? Take the necessary steps and call us by dialing (904) 549-6979.
Comments Off

on Got Milk? A Dentist in Jacksonville Says You Can Save Teeth!
No Comments
No comments yet.
RSS feed for comments on this post.
Sorry, the comment form is closed at this time.