September 12, 2023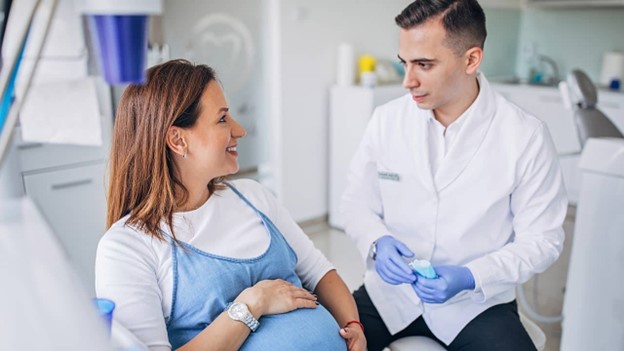 Pregnancy can be an overwhelming time with numerous responsibilities, from decorating the nursery to medical appointments and other preparations before the baby's arrival. Amid the hustle and bustle of expectant parents' lives, it's easy to overlook dental care. Nevertheless, it remains crucial to prioritize your smile. While it's not only safe but also recommended to visit your dentist during pregnancy, questions may arise about the safety of dental sedation in this context. Read on to discover whether undergoing dental sedation while pregnant is a secure choice or not.
Is Dental Sedation Safe During Pregnancy?
Dental sedation is safe for individuals, regardless of their pregnancy status. Dentists employ various sedation methods only after conducting a comprehensive assessment of the patient's overall health. Furthermore, research has indicated that dental sedation has no adverse effects on fetuses, ensuring the safety of both the parent and the baby.
While pregnant individuals typically do not encounter complications with dental sedation, it is generally advisable to postpone invasive or elective procedures until after giving birth, unless there is an emergency. Pregnancy triggers hormonal changes that can increase susceptibility to oral health issues such as cavities and gum disease.
3 Ways to Protect your Smile While Pregnant
Whether you decide to undergo dental procedures during pregnancy or opt for routine checkups, it's vital to maintain your oral health. This proactive approach can help you steer clear of the common oral health issues associated with pregnancy. Here are some strategies to achieve this:
Tell your dentist you're pregnant – This will enable them to suggest treatments or optimal practices to maintain the health of your smile, which may include more frequent dental visits.
Use anti-gingivitis products – Utilizing toothpaste and mouthwash designed to combat gingivitis can counteract the accumulation of bacteria along your gum line, effectively reversing early indicators of gum damage.
Floss at least once a day – Thoroughly cleaning the spaces between your teeth and along the gumline will eliminate plaque, bacteria, and food debris.
Maintaining good oral hygiene is essential for a healthy smile. If you're pregnant, be sure to communicate with your dentist so they can provide the best possible care to give you a gorgeous, healthy grin throughout your parenting journey!
About the Practice
Under the guidance of Dr. Tim Bradberry, the caring team of oral health experts at North Jacksonville Complete Dentistry provides top-notch services to patients of all age groups. Their services encompass dental checkups, cleanings, and dental sedation, catering to both pregnant and non-pregnant individuals. This ensures that all patients receive the quality care they deserve. To schedule an appointment with Dr. Bradberry and his team, please visit the North Jacksonville Complete Dentistry website or contact their office at (904) 549-6979.
Comments Off

on Can You Receive Dental Sedation While Pregnant?
No Comments
No comments yet.
RSS feed for comments on this post.
Sorry, the comment form is closed at this time.