October 2, 2017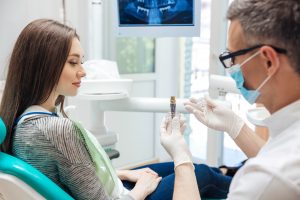 Traditional tooth replacement solutions only recreate the parts of the smile visible above the gum line. While this is essential to maintaining oral health and restoring patients' ability to chew, speak, and smile with confidence, there are numerous oral health issues that can still occur due to the loss of the underlying root structures of teeth. Dental implants are the only tooth replacement option that restores lost root structure. This offers patients numerous benefits, and replacement teeth supported by dental implant posts are the best way to maintain optimal oral health.

The Osseointegration Process
Osseointegration is a compound word composed of a combination of the word "osseous" meaning to become bone and integration. When dental implant posts are inserted into the gum line, they undergo the Osseointegration process. Over the course of three to six months, the supportive gum and alveolar bone tissue fuse with the dental implant post the same way they do with the natural tooth root. This creates a strong, stable support structure for a replacement tooth or teeth.
Preserved Jawbone Density
Without stimulation, the density of the jawbone begins to diminish dramatically. As the bone density decreases, surrounding healthy teeth can shift out of place, and over time, further tooth loss is inevitable. Dental implants provide this stimulation which is so important to healthy function, especially for patients who have experienced advanced tooth loss.
Maintained Gum Tissue Volume
Without the root structures of teeth to support the soft tissue, the shape of the gum line changes. For patients with extensive tooth loss, this can create the sunken in or sagging facial appearance many people associate with denture wearers. Dental implant posts provide the same support and maintain facial shape just like natural tooth roots. This prevents the changing facial shape, allowing patients to maintain their healthy, youthful appearance.
Meet the North Jacksonville Complete Dentistry Team
The dedicated dentists and team at North Jacksonville Complete Dentistry are proud to offer the full dental implant tooth replacement process in one convenient location. There's no need to visit multiple offices or worry about whether or not your dental restoration will be fully compatible with your implant post. Instead, the same dentists will handle the implant placement and restoration, leaving patients with flawless smiles. If you want to find out more, contact our Jacksonville dental office to schedule a tooth replacement consultation. We'll evaluate your smile, review your tooth replacement options, and partner with you to create a personalized treatment plan to meet your needs.
Comments Off

on Dental Implants to Maintain Optimal Oral Health
No Comments
No comments yet.
RSS feed for comments on this post.
Sorry, the comment form is closed at this time.