March 31, 2021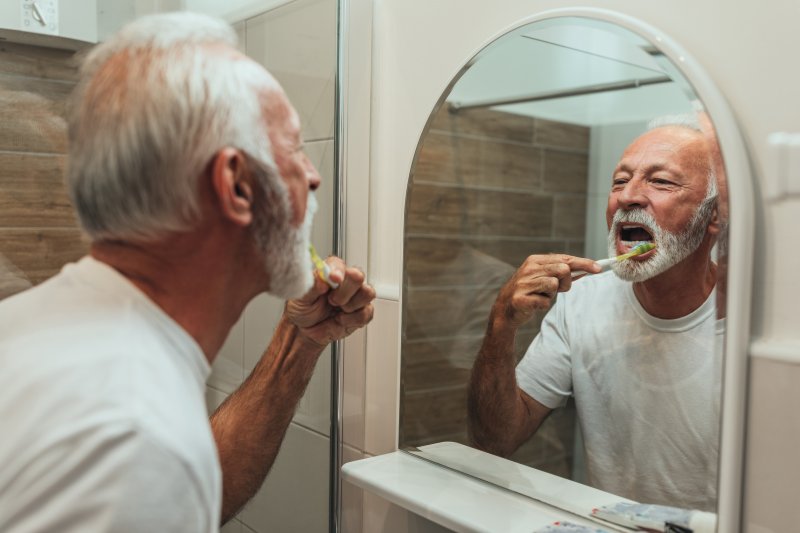 Prioritizing your oral care routine is essential at every stage of your life, especially if you are a senior. After all, as we age, we become more susceptible to dental concerns like dry mouth, root decay, and tooth loss. With this in mind, there are a few dental hygiene tips you should implement throughout your twilight years. Keep reading to learn what they are!
#1. Maintain Regular Dental Visits
No matter how good your at-home oral care routine is, it is incomplete without bi-yearly visits to your dentist. After all, these appointments play a crucial role in catching dental concerns (like gum disease) in the early stages and detecting oral cancer. Plus, the special tools your dental team uses during the cleaning portion of your visit are the only instruments that can remove stubborn plaque and caked-on tartar!
#2. Brush and Floss Daily
To keep your teeth and gums in pristine condition, it is of the utmost importance that you are consistent with your at-home dental hygiene regimen. To start, make sure to brush at least twice a day for two minutes at a time. Follow that up with floss, which will clean the remaining 40% of your teeth's surface. It is also a good idea to clean your tongue and use mouthwash regularly.
#3. Avoid Poor Dental Habits
Occasionally chewing on a pen cap or using your teeth to open something may not seem like a huge deal, but all it takes is one wrong bite to sustain a crack or chip. Plus, other poor dental habits, like smoking, have been linked to mouth and throat cancer, heart disease, and other serious medical conditions. Therefore, it's best to avoid poor dental habits like these altogether.
#4. Monitor Your Sugar Intake
From fizzy sodas and sweet coffee to creamy ice cream, many of the finer things in life are jam-packed with sugar. Once this delicious ingredient hits your mouth, it combines with the bacteria to form an enamel-eroding acid, which significantly increases your risk of decay and cavities. To protect your teeth and gums, keep your added sugar intake to a minimum.
No matter your age, you should be able to smile confidently, chew pain-free, and speak clearly. Fortunately, keeping the above best practices in mind can help you do just that!
About the Practice
At North Jacksonville Complete Dentistry, our team loves combining our down-to-earth, friendly care with the latest in proven dental technology to provide a comprehensive array of services for smiles of all ages. Whether it's time for your biannual visit or you are interested in addressing advanced tooth loss with modern dentures, our team is here to ensure you have the full, healthy, beautiful smile you deserve. If you are looking for a dentist for seniors or would like to schedule an appointment, visit our website or give us a call at 904-751-4958.
Comments Off

on 4 Must-Know Dental Hygiene Tips for Seniors
No Comments
No comments yet.
RSS feed for comments on this post.
Sorry, the comment form is closed at this time.