September 26, 2019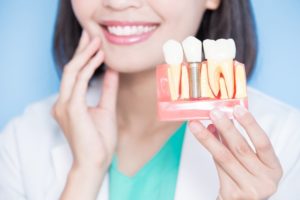 You haven't been brushing and flossing as much as you should, and now you're paying the price. You have decay in one tooth that has gotten so bad that your dentist says you have to get it pulled. Fortunately, you can get it replaced with a dental implant. Is it possible to get the implant put in right after your tooth gets taken out? Well, that depends. Let's take a closer look at what the dental implant placement process entails.
What Is a Dental Implant?
A dental implant is a small, screw-shaped metal fixture that is inserted underneath the gumline and directly inside the jawbone via a surgical procedure. It is the only tooth replacement method that restores not only the visible crown, but the root of the tooth as well. The implant is then topped with a restoration, such as a crown, bridge, or denture, to give you back your biting power and your smile.
What Does the Dental Implant Process Look Like?
There are 3 main steps involved in getting a dental implant:
First, your dentist will surgically place the dental implant into your jawbone. You will likely need to stick to soft foods for the following few days as you heal.
Next, the jawbone grows around the implant in a process called osseointegration. After this process is done, your implant will essentially function as a tooth root, stimulating your jawbone through biting and chewing.
Finally, the implant is topped with a restoration. Replacement teeth like crowns and bridges usually take a few weeks to make, so your dentist may first fit you with a temporary restoration.
Can an Implant Be Placed Right After an Extraction?
Your dentist may decide it's best to place the implant immediately following your extraction. This is done when there is definitely enough healthy jawbone to support both the extraction and the implant at the same time. The benefit of this technique is that it saves you time and you have to undergo fewer surgeries. However, this method has an increased rate of failure.
On the other hand, your dentist may determine that you do not have enough healthy jawbone left to immediately support the implant. After the extraction, your dentist may perform a bone graft and allow that to heal before the implant can be placed. This will increase the chances of your body accepting the implant, as it has plenty of room for it.
Dental implants are a great way to restore missing teeth. Ask your dentist whether you have enough jawbone tissue left to support an implant immediately following your extraction.
About the Author
Dr. Ryan Johnson earned his Doctor of Dental Surgery degree from the University of Colorado School of Dental Medicine. He currently practices at North Jacksonville Complete Dentistry in Jacksonville, FL, and is pursuing a Fellowship with the Academy of General Dentistry. Dr. Johnson can perform the entire extraction and dental implant process under one roof. To learn more, contact him by clicking here or calling (904) 751-4958.
Comments Off

on Can You Get a Dental Implant Right After a Tooth Extraction?
No Comments
No comments yet.
RSS feed for comments on this post.
Sorry, the comment form is closed at this time.