August 14, 2019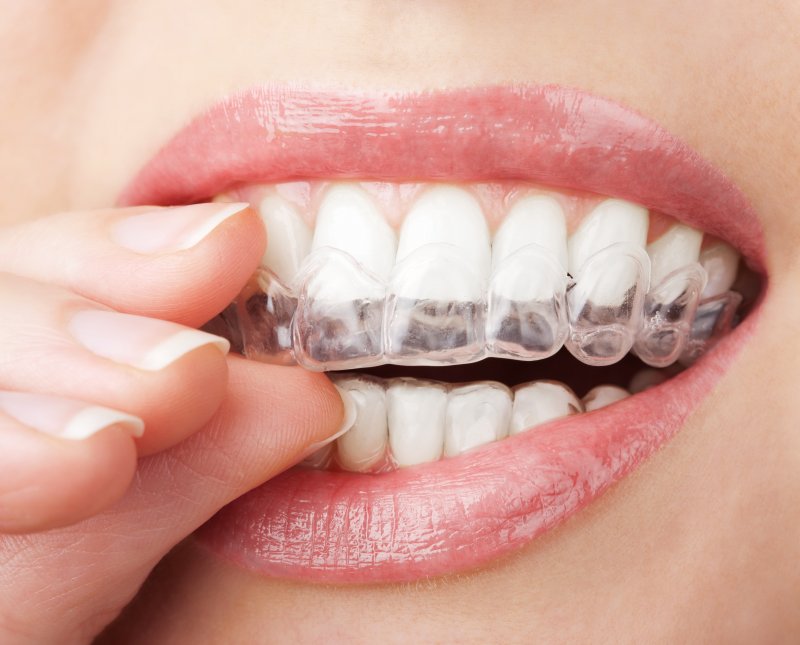 The gaps in your teeth are causing problems with your oral health. Not only are they unpleasant to look at, but you're continuing to experience difficulty with food getting stuck between them. If you are afraid the only way you can remedy the problem is with traditional metal braces, you'll be pleased to know there is an alternative solution. Take a look at these 4 benefits of Invisalign to find out how you can put your oral health back on track.
The Invisalign Solution: What Clear Aligners Can Fix
Considered to be one of the most versatile solutions available, many people seek treatment in the form of clear aligners. Their reason? More often than not it's for a discreet way to improve their smile; however, Invisalign has a way of improving your oral health, too. Some of the problems this innovative orthodontic system can fix include:
Overcrowding
Gapped teeth
Crooked teeth
Overbite
Underbite
Crossbite
Open bite
Invisalign will make it possible to brush and floss your teeth more effectively. When teeth are plagued with orthodontic problems such as those listed above, it can make it difficult to perform proper oral hygiene practices. As a result, food particles and harmful bacteria can lead to an increased risk of tooth decay, gum disease, or other oral and health-related problems. If an infection is left untreated, it can not only result in bone or tooth loss, but it can enter your bloodstream and cause cardiovascular or neurological diseases.
4 Benefits to Invisalign
Clear aligners aren't just for creating a more aesthetically pleasing smile, but they're also for enhancing your teeth and gums, and as a result, boosting your overall well-being, too. Invisalign offers an array of benefits, some of which include:
Discreetness: Don't want others to know you're being treated for a bite alignment problem? With Invisalign, that's not a problem! Unlike traditional braces that require a person to walk around with a mouth full of metal, Invisalign uses clear plastic aligners that are hardly noticeable to others. This can make it a much more appealing option for working professionals.
No Dietary Limits: Since your aligners are removable, this makes it possible to enjoy all the foods you love without worrying about having to pick them out of your braces later. It is recommended that you remove your trays prior to eating or drinking because they cannot withstand the pressure placed on them during the chewing and eating process. So, feel free to enjoy that juicy steak or hamburger!
Possible Weight Loss: While it's not always the case or even a guaranteed "side effect," it might be that you lose weight while wearing Invisalign. Again, don't run out to your dentist office and ask for Invisalign just to lose a few pounds, but in order to have a successful treatment and results, you must wear your aligners for 20-22 hours a day. That means, snacking throughout the day will need to cease if you want straighter teeth. By deciding a cookie or bag of chips isn't worth the trouble of removing the aligners, you may find yourself eating healthier food options during mealtime. The less amount of time your aligners spend out of your mouth, the faster you'll see results.
Flexibility: If you don't have time to deal with long, drawn-out dental appointments, Invisalign might just be the solution for you. While you will need to keep your scheduled visits, you'll be in and out of the dentist office in less time because there is no wire adjusting that needs to be made!
When preparing for clear aligners, you will undoubtedly be excited about the improved appearance you'll achieve. But what is even better is knowing you'll have better oral health because of your decision to choose Invisalign.
About the Author
Dr. William Baxter graduated from The University of Pennsylvania School of Dentistry and went on to serve in The United States Coast Guard. Opening his own practice, he cared for patients in Monticello, New York, until 1996 when he and his family moved to Jacksonville and opened North Jacksonville Complete Dentistry the same year. Dr. Baxter and Dr. Johnson are committed to offering patients the treatment they need for crooked, misaligned, overcrowded, and gapped teeth. With Invisalign, they can have patients seeing a straighter, healthier smile in less time than with traditional braces. To learn more about how you can take advantage of this service, contact us at (904) 751-4958.
Comments Off

on 4 Non-Cosmetic Benefits of Invisalign and How It Can Improve Your Health
No Comments
No comments yet.
RSS feed for comments on this post.
Sorry, the comment form is closed at this time.