September 26, 2018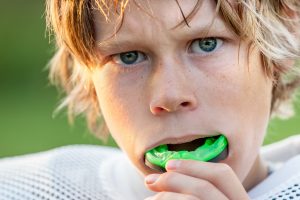 Wearing a mouthguard in Jacksonville is essential for keeping your teeth safe during contact sports and other physical activities. Over-the-counter versions work reasonably well for this purpose. However, you'll get the best results from a custom-fitted product designed by your local dentist.
The Three Types of Mouthguards
Mouthguards fall into three different types. These are:
Stock mouthguards. You'll find these at sporting retailers and mass merchandisers. They are generally made of some type of foam material and designed to fit a broad range of oral profiles. While they tend to be inexpensive, they're also bulky and can make breathing and talking unpleasant or even difficult.
Boiled mouthguards. These products are somewhat better than stock versions. The wearer first softens them in boiling water and then places them in his or her mouth. This allows a degree of customization unavailable from cheaper options. However, many users still find them obtrusive and unpleasant to use because they're made to fit as many people as possible.
Customized mouthguards from your local dentist. These are the best option. The dentist takes a mold of the wearer's mouth and sends this information to a lab, which then crafts a customized version for the recipient. Some practices are able to fabricate the mouthguard on-site. This allows a hand-in-glove fit that mass-produced products cannot match.
How Customized Mouthguards Are Made
The process begins with a visit to your local dentist. He or she will make an impression of your teeth and either create the mouthguard in office or send the information to a lab.
When you receive your mouthguard your dentist will have you try it on and provide any adjustments to ensure it fits your mouth. Custom mouthguards come with protective cases to guard the product against damage.
How to Care for Your Mouthguard
Custom mouthguards require only minimal care to provide maximum use. Here are some tips for keeping it in top shape:
Rinse the mouthguard prior to and immediately after each use.
Every once in a while, wash the mouthguard with cool soapy water, then rinse and allow it to air-dry.
Keep the mouthguard out of hot water, bright sun and away from heating vents in your home or car. A custom-fitted mouthguard should never go through a clothes dryer.
Keep the mouthguard in its protective case when not in use.
Check the mouthguard after each use to make sure it hasn't suffered any damage. This rarely occurs with customized products.
In addition, it's a good idea to occasionally clean the mouthguard with a toothbrush and a little bit of toothpaste. This will help to prevent bacterial buildup and ensure the product remains comfortable.
Special Information for People Who Wear Braces
Getting a customized mouthguard is especially important for people who wear braces. Over-the-counter versions are not designed to accommodate the unique contours created by braces. Your dentist or orthodontist can give you more information.
Sports and games are a great way to keep fit and learn important life skills. So see your dentist about a customized mouthguard to protect you during practice and play. That way you'll come off the playing field with plenty of reason to smile.
About the Author
Dr. William Baxter is a graduate of the University of Pennsylvania School of Dentistry and a Coast Guard veteran. He has practiced dentistry right here in Jacksonville since 1996. You can reach his office online or by calling (904) 549-6979.
Comments Off

on Here's Why You Should Get a Custom-Made Mouthguard in Jacksonville
No Comments
No comments yet.
RSS feed for comments on this post.
Sorry, the comment form is closed at this time.