July 14, 2023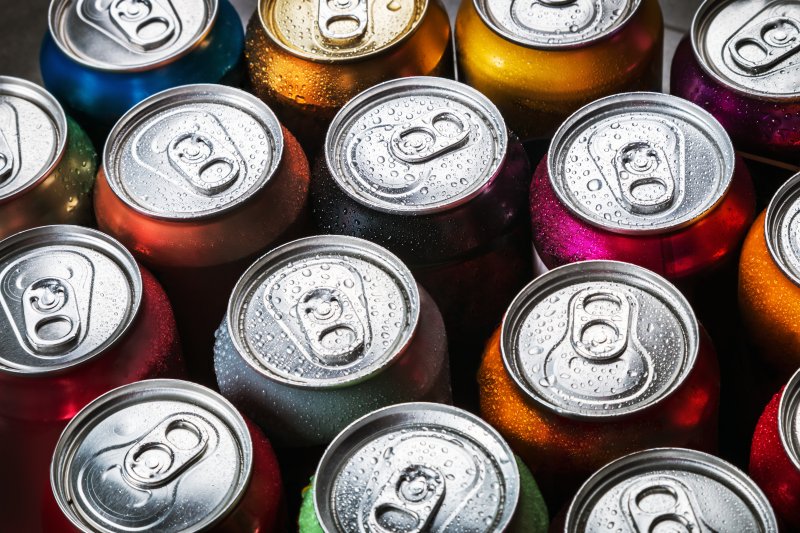 What's better than cracking open an ice-cold can of your favorite soda to cool down on a hot summer day? If you're a lifelong soda lover, you might have swapped to diet sodas to cut back on sugar, whether you're trying to have a more balanced diet or prevent tooth decay. However, studies have shown that this change might not be as helpful as you think. If you're wondering if swapping to diet soda can benefit your oral health, keep reading to learn more.
Why You Should Stay Away from Regular Soda
The bottom line is: it's not just soda. While the tag-team of sugar and carbonation can harm your teeth, any super-sweet beverage is especially damaging to your pearly whites. The sugar content can be as much as 9 teaspoons of sugar in a 12-ounce soda. Picture a huge Thanksgiving cheat day for the bacteria in your mouth that wear away at your enamel – that's what a bottle of soda can do to your oral health!
Later stages of tooth decay are irreversible. While fluoride treatments, fillings, and root canals can help treat it, you're better off just staying away from these sugary drinks.
The Truth About Diet Soda
So, if sugar is a huge downside of regular soda, are sugar-free or diet sodas any better? Unfortunately for soda lovers, studies have shown that the difference in dental damage caused by sugary and diet soda is negligible.
While regular soda promotes the growth of bacteria that lead to tooth decay and cavities, sugar-free sodas contain ingredients that erode your enamel, such as phosphoric or citric acid. Enamel erosion exposes the soft, inner parts of your teeth, causing tooth sensitivity and other oral health issues.
Regular vs. Diet Soda: Which is Better?
Neither regular nor diet soda is better for your oral health. At the end of the day, tried and true tap water is the best and safest drink for your smile.
Milk can also be good for your oral health, as it contains phosphate and calcium that can strengthen, rather than deteriorate, your teeth. That being said, milk does contain natural sugars, so it's best to keep that in mind and drink it in moderation.
If you still want to drink soda, there are measures you can take to protect your smile. Drinking quickly through a straw minimizes the contact between the sugars of the soda and your teeth, reducing your risk of decay. Another way to prevent cavities is to rinse your mouth with water afterward. You can also brush your teeth after drinking sugary beverages, but wait at least 20 minutes so you don't further aggravate erosion.
The best ways to reduce your risk of cavities and tooth decay are to maintain a good oral hygiene routine and visit your dentist regularly at least every six months. Water and dentists are your best friends when it comes to preserving your smile!
About the Practice
North Jacksonville Complete Dentistry is dedicated to providing the greater Jacksonville area with comprehensive, personalized dental care. The practice offers thorough and effective dental checkups and cleanings to stop cavities before they even start. If you want to learn more about how soda can affect your smile, contact the North Jacksonville Complete Dentistry team at their website or by phone at (904) 751-4958.
Comments Off

on Does Swapping to Diet Soda Benefit Your Oral Health?
No Comments
No comments yet.
RSS feed for comments on this post.
Sorry, the comment form is closed at this time.