Cavity Prevention Services – Jacksonville, FL
Stop Tooth Decay Before It Even Starts
Tooth decay, or cavities, are the most common oral health concern, and only a very lucky few will manage to live their entire lives without one or more cavities. As is true for any oral health concern, prevention is essential to cavity prevention, and the North Jacksonville Complete Dentistry team will help you keep your smile whole and healthy. If for any reason, we're unable to prevent tooth decay, we also provide a wide range of restorative dentistry solutions to fully repair your smile's form and function. Contact us to find out more or schedule an appointment in our state-of-the-art, family-friendly Jacksonville dental office today.
Why Choose North Jacksonville Complete Dentistry for Cavity Prevention Services?
Treatments available for both children & adults
Tooth-colored fillings make cavities disappear in just one appointment
Sealants protect children's teeth while they're still learning to brush
Importance of Preventive Dental Appointments
Six month dental checkups and teeth cleanings are key to ensure you prevent cavities. During these appointments, we'll examine your smile for early warning signs of tooth decay that may go unnoticed to the untrained eye. If we notice weakening in the tooth enamel that indicates an increased risk for cavities, we'll assist you by guiding your at-home hygiene routine to ensure you remove plaque and tartar buildup from the surfaces of teeth. If we do find areas of decay, we can typically repair them immediately to prevent the spread of decay and fully renew your oral health.
Learn More ABOUT PREVENTIVE DENTISTRY

Caring for Your Smile At-Home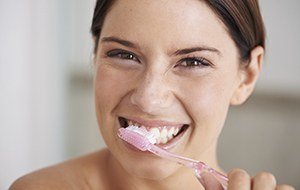 In addition to your regular dental checkup and teeth cleaning appointments, at-home hygiene is important to every cavity prevention routine. Keep the following tips in mind to ensure you're maximizing your daily oral hygiene routine:
Brush for at least two minutes at a time at least twice a day
Use soft or ultra soft bristled toothbrushes to avoid damaging soft tissue
Place your toothbrush at a 45 degree angle toward the gum line to remove bacteria and plaque buildup near the gums
Floss at least once each day to remove bacteria and plaque that accumulate between teeth
Use a fluoridated toothpaste to strengthen tooth enamel
Helping Kids Keep Their Smiles Healthy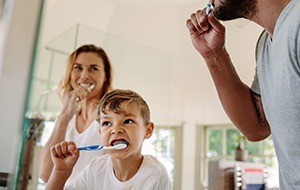 Kids who are still learning to care for their smiles may need a little extra help with their oral hygiene routines. Dental sealants are excellent preventive dentistry options that work for many young patients. Placed quickly during any dental checkup, sealants create a protective barrier between the surfaces of teeth and potentially damaging plaque and tartar. Once in place, dental sealants will protect your child's smile for years. Adults who struggle with chronic tooth decay may also benefit from this preventive dentistry service, so don't hesitate to ask.
Learn More About Children's dentistry

Tooth-Colored Fillings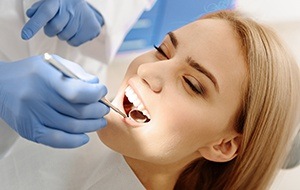 If you do have a cavity, we use cosmetically superior, natural looking and feeling tooth-colored fillings. Crafted from high quality composite resin, these fillings are easily placed during a single appointment, and they replace lost tooth structure, leaving you with a flawless smile. We can also use composite resin to repair cracked or chipped teeth and conceal minor cosmetic flaws.
Learn More About tooth-Colored Fillings

Emergency Dental Restoration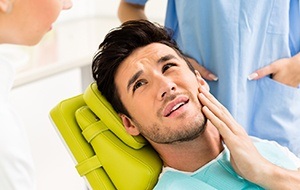 Don't wait until your next dental appointment to have a tooth repaired. To avoid additional damage, we encourage patients to call our office as soon as they notice their tooth is damaged. In most cases, we can schedule a same day emergency dentistry appointment. If your smile can be repaired with a tooth-colored filling, we can place this right away, and we also offer same day dental crowns and more advanced restorations using the CEREC one visit dentistry system.